Twitter has updated it's Windows Phone 8 client, Twitter for Windows Phone. The new update introduced today will bring the Twitter for Windows phone in line with other iOS and Android twitter clients. Twitter is working to unify the user experience on various platforms, todays update is similar attempt to bring Windows Phone twitter client in line with other mobile versions of it's app.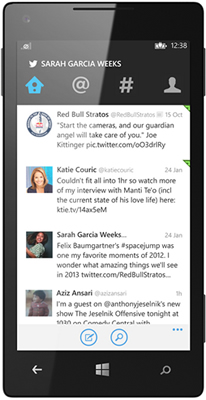 The new update brings the Navigation bar with four tabs on top, Home, Connect, Discover and Me. If you have used iPhone or Android twitter client you know these are already present in those clients. Home button lets you see tweets from people you follow, expand tweets to see the content like images, videos and summaries where available. Connect tab will allow you to mentions, new followers, retweets or favorites of your tweets.
Discover tab for seeing trends, finding new friends, browsing categories, basically finding all types of content. Me tab will allow you to see and respond to direct messages, see your lists, favorites and other things.
Apart form the navigation bar with tabs, you also get tweet and search icons. The update also brings the Live Tiles support allowing you to pin twitter accounts, list and searches to your home screen.
With this update to Twitter for Windows Phone users of Windows Phone devices have consistent set of features found on other mobile platforms.
Download Twitter for Windows Phone, Via Twitter
Comment Using Facebook