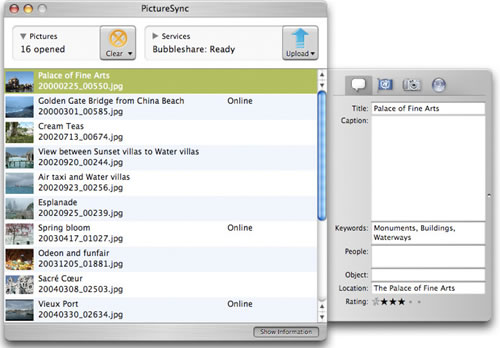 Mac Only: Now a days people use different photo sharing networks like Flickr, Photobucket etc, some of you might be using more than one site, it's a pain to update all these sites with your pictures. PictureSync wants to make your life easier by uploading photos all the supported sites at once.
PictureSync allows you import pictures from iPhoto, iView mediapro, Aperture or from any other application that support IPTC/XMP. PictureSync has an integrated annotation editor fro annotating your pictures with keywords and captions if you don't have a image editor.

With this tool you can upload your pictures to various supported social media sites in one click. It also has support for geocoding of your photos using Google Earth.
PictureSync has a free version with some limitations, you can get the pro version for $15 or $30. Currently it is available for Mac, but a Windows version is coming soon.
Comment Using Facebook