Can You Run It? is a web app that tells you if you can run that popular game on your computer. It compares your system specs with the minimum requirements of the computer games and shows you whether your computer can run that game or not.
It does so by downloading a Java applet for Firefox and ActiveX for IE. Select your game of interest from a long list of popular games and click the "can you run it?" button, it will analyze your hardware specs and shows the report in a few seconds.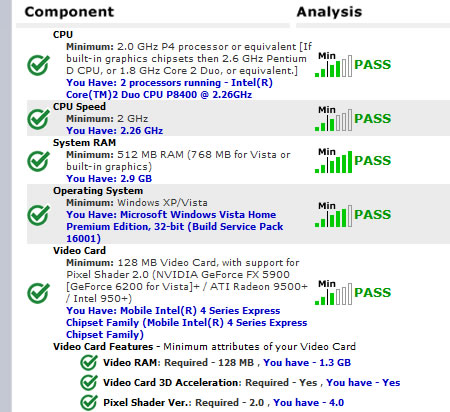 If you want to download a game and you are unsure whether you can run it or not, this is a simple service to check immediately. The report is useful to check what system requirements your computer meets. It also offers recommendations but users may not be willing to upgrade to those specs. While it shows a long list of popular games, you may not find each and every game in their database.
During the analysis only system hardware and software are evaluated according to System Requirements lab, and no personally identifiable information is collected. It works on Windows 98, 98SE, ME, 2000, XP, 2003, Media Center, Vista with Firefox, IE and netscape browsers.
Comment Using Facebook