AnchorFree, the maker of free VPN service Hotspot Shield released an app for Android users for protecting themselves. With the usage of smartphones increasing recently it makes sense to have some security layer added for safe browsing. Hotspot Shield is already available for iPhone, now they added support for Android devices.

Hotspot Shield on Android allows users to to protect themselves from prying eyes over public Wi-Fi connections. It encrypts the your browsing session and protects from malware. You can also access blocked sites using it's VPN (virtual private network)on Android.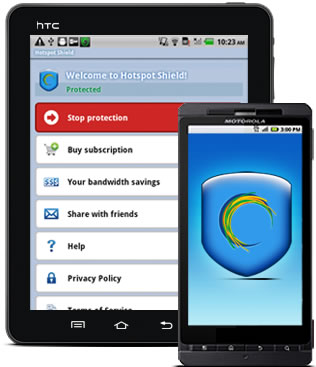 The company claims that with the Hotspot shield's bandwidth compression will allow users to access double the web content they normally do with their current plan.
Hotspot shield app can be downloaded from Google Play. The app is available as free and paid version. The free version will give you unlimited VPN bandwidth. The free app won't have broadband compression, protection from phishing. One subscription of this app is enough for all your android devices. To make full use of the apps functionality you have to pony up $0.99/month or $9.99/year as subscription.
The app works on Android devices running Android 2.0 to Android 2.3.7.
Comment Using Facebook