Yahoo is testing new home pages for quite some time, these new home pages are not enabled for all Yahoo user, but only a small percentage of users will see these designs. There are two variations of the new Yahoo designs, one that is released in Sep 2008 and the other that is released in May 2009.

Update: Now there is a link at the bottom of the page that reads "back to yahoo classic", thats it. Thanks for the tip Britaney.
Both the new designs offer clean interface and some customization to add apps, social activities etc. But some users really hate these new home pages.
How to get back your old Yahoo home page
Delete the cookies, delete cache, files and restart your browser. That's all you need to do to get back your old Yahoo home page. If you are using IE go to Internet Options and delete browsing history that will erase, history, cookies, temporary internet files etc. If you are using Firefox go to Tools > Options > Privacy tab, click settings in Private Data and set what ever you want to remove and save, then clear private data. If this doesn't help check here for instructions to use another method.
For the curious these are the new home pages that are being tested. The first screenshot is the latest and the second is the previous.
Latest home page

Previous home page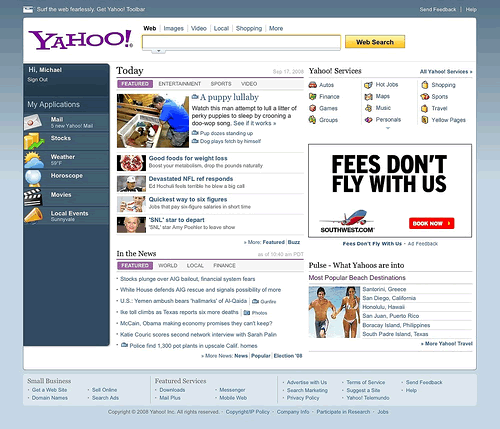 Screenshots via YodelAnecdotal
Comment Using Facebook